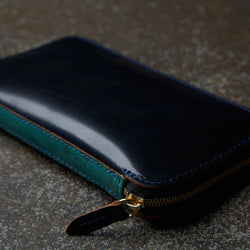 L A U L O M
SHL ZIP POUCH No. 95 | 50% Off
The sophisticated design of our SHL Zip Pouch No. 95 does so much in a small package. Large enough to carry an iPhone 6+, a notepad, pens and multiple business or credit cards. Carry it in your back pocket, your briefcase or simply in the palm of your hand; it is functionally smart and ultimately attractive. 
Crafted entirely of Shell Cordovan on the outside, a Swiss made, premium brand zipper, then lined with a supple, natural suede interior with a shell card slot and two full-length open pockets for cell-phone, note-pads, checkbook or a passport.   
Artisan tanned for 6-months in a 100+ year old Downtown Chicago tannery then skillfully assembled in our California leather studio, our Shell Cordovan pieces are truly luxury in leather. Timeless designs with leather that will age like fine wine. 
LEATHER: Horween® Shell Cordovan Leather
LINING:  Vegetable Tanned Goatskin (Europe)
ZIPPER: Riri Metal | Brass (Switzerland)
DIMENSIONS: 7" x 4"
STYLE #: LSC95
Proudly designed & crafted in our San Diego, CA leather shop