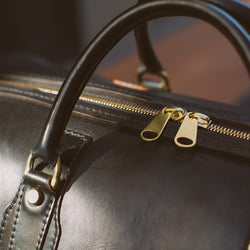 L A U L O M
LAULOM Duffel No. 2 (2019) | 60% Off
Our LAULOM Duffel No. 2 is true American "luxury" craftsmanship at it's finest. A full-size duffel with a suede-lined interior, beautiful rolled handles tasteful Shell Cordovan accents.
The CXL No.2 is part of our Fall 2019 Season-2 Collection
ABOUT THE COLLECTION
Season-2 is a truly luxurious collection with a suede-laminated interior (not loose lined), there is no fabric or synthetic in any part of the collection, 100% leather inside and out. 
Most luxury European brands build their bags with the same "laminated suede" interior. The process is time-consuming and expensive but beautiful, giving the bags more structure. Each piece is made from Horween® Chromexcel® leather then trimmed with Horween® Shell Cordovan and the absolute finest hand-polished and fully symmetrical brass Excella brand zippers (Made In Japan). We use custom brass pullers and each design is exclusive and completely unique.
LEATHER: HORWEEN® Chromexcel® & Shell Cordovan
LINING: 100% Suede Leather
ZIPPERS: Excella #8 Polished Brass (Made In Japan)
DIMENSIONS:  18" x 14" x 9"
STYLE #: LX0205
Proudly designed & crafted in our San Diego, CA leather shop